Creation within the framework of the European Culture 2000 program
In 2001, the children set out in search of a secret, sacred instrument, endowed with natural powers that was hidden in a distant land.
The booklet tells the story of their journey and quest from their departure from the city to their arrival at the sea.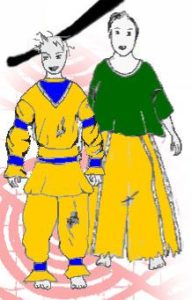 47 on stage, it is  a mass, a crowd, a swarm, a demonstration, two rival bands, a column, a line, a chorus.
The song is the cement of the show, the choreography, the basis of the construction of the corypheus as in those forgotten times where theatre and dance were inseparably linked.

For a dancer, the stage is never empty but carries invisible traces of a geometry that draws a circle, a line, a ravine, angles, a mountain, points, a forest, a river.The lyrics were written by the children upon the melodies chosen from the works of Béla Bartók and Zoltán Kodály, Hungarian composers.
Children A Capella opera based upon musical works from Béla Bartók and Zoltán Kodály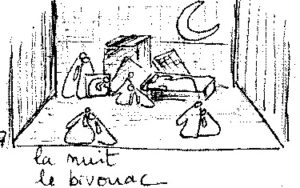 sketches La Cantatàpied- © B. Raffin 2001
Date(s)
29 and 30 of may 2001
Theatre Antoine Vitez, Aix en Provence
12 to 17 june 2001
Theatre des Bernardines, Marseille
Les 3 coups (La cantatàpied)
Distribution

Staging Direction : Brigitte Cirla
Choreography : Bénédicte Raffin,
Musical direction : CNR de Marseille : Yolaine Callier- Moftain, Sylvie Martin, Valérie Montdésir et Nicole Rodriguez
Staging assistant : Sabine Boukobza
Lights : Raphaël Verley
Scenography : Chloé Gosse
Costumes : IICC, directrice de formation : Laurence Maurandy,  Yamina Boudjema, Catherine Cocherel, Isabelle Mistler.
Casting and writing of the booklet: 94 children of the school of the Cours julien, Marseille.

Partners

Production : Voix Polyphoniques
Coproduction : Cie Geneviève Sorin/Méaari, Système Friche Théâtre, Espace culture Multimédia.
Partners : school of the Cours julien, Marseille
C.N.R de Marseille,
University of Provence (department Arts du Spectacle), Theatre Antoine Vitez, Aix en Provence
IICC (Marseille),
Theatre les Bernardines, Marseille
Chawerusch Teater (Herxheim) Germany,
Argomm teatro (Milan), scuola sperimentale de Lissone, Italy.